My Last Request overview With links
My post content
Foreword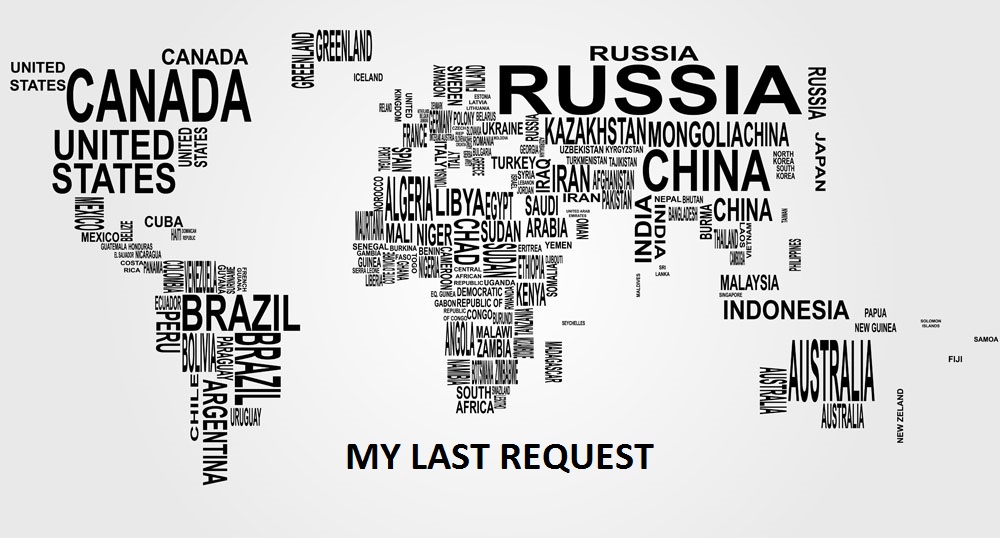 Hello,my name is Tom


Founder & C.E.O. of My Last Request.org


A non-profit , privately financed organization, dedicated to providing a service / platform where individuals can express their :-
Requests / wishes / desires / aspirations / intentions in a private and personal format through a user friendly list of pre-formed questions and options which cover ever aspect of the users life.
This service is not a replacement for a last will and testament.

( We recommend a will for everyone,drawn up by a professional)
It is designed to accompany the legal document as a guide to the users wishes.
The application contains questions / fillable boxes which will include :-
Please notify this person.
Contact details of relatives and friends.
Medical details (medications,allergies,blood type,consultant,doctor etc. )
Legal representatives( lawyers etc. )
Location of personal documents.
Personal details. (home address,passwords )
Bank,mortgage,credit union,savings,bonds,insurance

( phone numbers,addresses )
Care of pets,animals etc.
Small bequeaths e.g. :- (watch,rings,jewellery,bicycle,furniture,paintings,garden tools )
Funeral details .where,how, who by,flowers,music, type,buried,cremated,frozen,medical purposes,organ donation.

Literally hundreds of small details often not considered important or worthy of recording till it is too late !
This is a concept that some young people have difficulty understanding or dealing with.
A belief in their own immortality !!
However older / more mature people accept the realities of life and deal with them practically.
This service gives people the chance to record their thoughts in a private forum without influence while having the ability to update / change / add etc. as their thoughts / experiences
and circumstances change on life"s journey.
EVERYTHING THAT REQUIRES IMMEDIATE ATTENTION IN THE EVENT
OF AN UNFORSEEN OCCURRENCE !!
This service offers a serious practical solution to a universal need.
We have developed an app.to fill this void


This need has not been addressed in the context of the web as an application.
We have acquired the relevant domain names.com.biz .org
This service will be attractive to the user against the prospect of a self-created folder which would entail various technical hurdles.

Other advantages of this download / app. include :-
All details are secured and protected by the users own security on their device.
The ability to update / alter / revise / delete their requests and wishes 24/7 as and when their circumstances change,reflecting their mood ( on the move ) at that present moment and share it with selected users if desired.

Download to a printer for a hard copy if desired,this document if witnessed could be regarded as legal (depending on local government).
Only a small percentage of people have made a Last Will and Testament ( 33% )
This Will document is never consulted until after the funeral has taken place !
It usually does not cover the small details and items that matter to those left behind.
This service gives clear instructions about the little details for all to see.Avoiding confusion,arguments and sometimes legal disputes!

HOW MANY TIMES HAVE WE HEARD IT SAID :-

IF ONLY THEY HAD TOLD US !
THAT IS NOT WHAT THEY WOULD HAVE WANTED !
I WILL LEAVE YOU THAT WHEN I GO !
THAT WILL BE YOURS !
YOU CAN HAVE THAT WHEN !

With this service the user can express their requests in a clear and concise way without influence from others.

In summary,a service that addresses a universal need,suitable for a wide spectrum of users,that encourages interactivity.
This application will change the lives of millions of people worldwide now and for all time,
People will always have Last Requests !
This app. gives them the chance to express them in privacy ( or for all to see )
A must have application for :-
Ex pats.
Silver surfers make up a considerable sector of the on-line community.
Anyone who travels socially or in a business enviroment,
People who feel uncomfortable in an office situation, or do not have ready access to a professional service provider.
Licence options to N.G.A.s, regional agencies / goverment depts / community leaders / charities / professionals who recognise the advantages of the service to engage with the users.
We welcome any questions and / or proposals which would be of a mutual advantage
Please note :- some older devices may require BLUESTACKS (DOWNLOAD FREE)
Stay safe ! Only download My Last Request from a trusted source.


Regards,
Tom.